Medford

Motorcycle Towing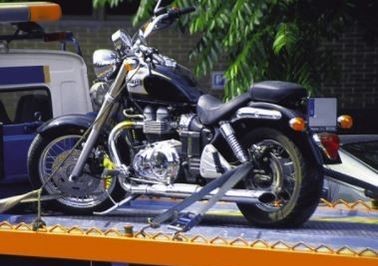 Here at Medford Towing Company, we understand the importance of motorcycles for riders in Middlesex County. That is why our team proudly provides reliable flatbed towing services for all kinds of motorbikes—whether it's a Honda or Yamaha, Harley Davidson or Indian. With years of experience and knowledge under our belt, we are your go-to provider when needing motorcycle towing; plus you can be certain that your bike will always receive special attention and care from us.
Our flatbed trucks are the perfect way to get your motorcycle safely and stress-free from one destination to another. We utilize hydraulic ramps for seamless loading and unloading so that you don't have any worries while transporting your bike. At our company, we understand how important it is both emotionally and financially that your bike remains secure during its journey, which is why we take extra precautionary steps in ensuring top-notch safeguarding of all motorcycles entrusted into our care. Entrust us with moving your motorcycle today—you can count on us.
We here at our company are well aware of the uneasiness that can come with motorcycle towing. Our devoted group is committed to offering you reliable and timely assistance so that your ride will be road-ready in no time! Don't worry if it's a flat tire, an inactive battery, or something else—we're right by your side during those moments when you need us most.
Medford Towing Company is the premier choice for motorcycle towing in Medford, MA. Our team of experts are devoted to delivering first-rate customer service and guarantees that your bike will be handled with the utmost care during its transportation. Get in touch now so we can assist with all your motorbike requirements. Contact us today at (781) 265-2505 and get free estimates.
Going For A Ride In Medford
For motorcyclists in Massachusetts, summer isn't just about Fenway Park. These folks choose to cruise. From the endless roads perfect for cruising to Middlesex County exploration, there's plenty of places to explore. However, if you run into any trouble along the way, don't worry—we're here with our reliable service. Just give us a call and we'll be right over to get you back on track.
At our company, we are proud to offer the utmost professional training for bike towing. Whether it's a big or small motorcycle, our team can deftly maneuver it onto a flatbed trailer and secure all straps with precision. We provide transport services that take you wherever you want; as well as repair shops if needed. Plus, we have extensive expertise in cars, trucks, buses, and any other massive vehicle.
 In addition to motorcycle towing, they also offer a range of other towing services, including cheap towing, lockout service, and more.
Looking for someone to take care of your vehicle transportation needs? Our team is here and ready to assist! No matter the type of tow you require, our friendly and knowledgeable staff can help. Reach out today—we'll be happy to hear from you.
When Does Your Bike Need A Flatbed Tow?
There are several reasons why your motorcycle may need a tow, including:
Engine failure

Flat tires

Chain or shaft drive issues

Brake issues

A dead battery

You're out of gas
When your motorcycle is in need of repair, trust us to provide a simple and stress-free experience. Our team of specialists are familiar with the roads throughout Middlesex County, ensuring fast response times and top quality repair services. From tire issues and engine hiccups to chain or shaft drive problems, brake malfunctions– you name it; we've got you covered with reliable tow truck service so that you can get back on the road quickly. Don't hesitate—reach out today for assistance.
Medford Towing Company: (781) 265-2505.